My Bike History
I first rode a little 50cc scrambler bike at a County Show aged about 7 years, and the seed was sown, but what got me really hooked was attending the 1984 British Motorcycle Grand Prix at Silverstone. Watching the likes of Barry Sheene, "Rocket" Ron Haslam, Randy Mamola and Eddie Lawson hurtle round the track at insane speeds, just a man, an engine and two wheels, was nothing short of spellbinding. From that point on, I was going to ride bikes.

Fast forward to 1989, and I was old enough to legally ride a bike (under 50cc) on the road. I don't think anyone's parents ever WANT their kids to get a bike, but at the time I was reliant on my father for lifts to and from school, some 8 miles from home, and his working hours meant I spent a lot of time there outside of normal hours. So, I suggested that I might need to get my own transport, otherwise I was at risk of failing my exams, and remarkably that seemed to do the trick ! 2 days before my 16th birthday a 1981 Honda MB5 was delivered to my home. It wasn't new or particularly shiny, but it blew away any previous birthday or Christmas presents I had ever had.
Honda MB5
The Honda MB5 had a 49cc two-stroke single-cylinder engine developing a mighty 2.52bhp (2.55 PS), and was sold in the UK between 1979 and 1981. Believe it or not, there is still the odd enthusiast (and example) of this bike around today !
There was a steep hill between my home and school, and even taking a run-up at top speed, due to the lack of power by the time I reached the top I would be crawling along at about 10mph. Undeterred, I rode this bike to and from school for the next year, before discovering the great universal truth that if you ride bikes, sometimes you are going to get knocked off. Not my fault, the guy in the car wasn't paying attention and thought the mini-roundabout that I was traversing was just a right-hand bend in the road. So, over his bonnet I went, in what felt like slow motion, thinking as I was flying through the air that I had probably better try to land properly otherwise I might break my neck. Luckily I had done some Judo training so I did my best Zenpo Kaiten (forward roll), which saved my neck, but as it's designed to be done on a padded mat rather than a concrete and tarmac road, I broke my ankle as it flicked over and hit the ground. So, pain, and crutches for about the next 8 weeks, but also - compensation ! Which was paid directly to me, so this time I just went out and bought another bike without asking my parents.

The new bike was a 1987 Yamaha TZR-125, which I retro-fitted with the optional fairing and, once I had passed my bike test, had de-restricted, which took it from 12bhp to 20bhp. It looked pretty awesome for those days, and had a wicked power band which kicked in at 7000rpm. You could buy a power valve kit which would have increased maximum power and made the delivery a lot smoother, but I never got round to doing that. I took a couple of my mates out on the bike quite often (only one at a time obviously) and they became very familiar with that powerband. I clearly remember them nervously tightening their grip around my waist as the engine note rose towards the critical 7000rpm mark at which the acceleration would suddenly increase. With just me on it, and with a following wind, on a private runway of course (ahem !) I managed to touch 100mph on that bike.
Yamaha TZR125
The original Yamaha TZR125 had a 124cc two-stroke single-cylinder liquid-cooled engine which developed 20bhp (20.3PS) once de-restricted. Later models came from the factory with YPVS (Yamaha Power Valve System) which increased maximum power to 26bhp (26.4PS).
Once I left home and was working, a more powerful bike was high on my list of priorities. I traded in the TZR125, which I remember with such affection, AND got a sizeable loan, in order to buy a 1986 Suzuki RG250 Gamma. Looking back, that was a bad move, the bike was a real dog. Yes, I did have more power, but every time it rained heavily, water would get into the electrics and the engine would conk out, leaving me stranded at the side of the road waiting for it to dry out sufficiently to restart.
Suzuki RG250 Gamma
The Suzuki RG250 Gamma had a 247cc twin-cylinder two-stroke engine producing 45bhp (45.6PS), but the less said about this bike probably the better ! The handling was questionable, it was not very reliable, and I prefer now as then the styling of the TZR125.
That bike was eventually stolen from the front garden of the shared house in Reading where I was living at the time. The little scamps rode it around for a while, then somehow got it up onto the roof of the Community Centre in Tilehurst, in a scene I always picture like the one in Terminator 2 where the T1000 rides the Police bike up the stairs at the Cyberdyne offices. Then they torched it.

This was the point where I realised that you never actually get any money out of an Insurance company, they always get it back one way or another. I received a paltry payout, and for the next few years my premiums would have been so heavily loaded that I simply could not afford to own a bike. Instead I had to buy a car, a 1985 Mark 2 Astra. Actually that was far more practical while I was at University, and I have had a car ever since, but the fascination had not gone away. Once I finished Uni and was working full-time again, another bike was on the agenda. That's when I bought my first properly fast bike, a 1994 Kawasaki ZZR600.
Kawasaki ZZR600
The Kawasaki ZZR600 had a 599cc four-stroke, transverse four-cylinder engine with quad Keihin CVKD 36 carbs and produced 98bhp (99.4PS). It looked awesome, was very fast, and the handling was superb. Owning this bike turned me into a devout Kawasaki enthusiast.
This bike was only about a year old when I bought it, it had an electric starter which I felt I was about due, and looked amazing. I could barely believe that the guy selling it just allowed me to go off for a test drive, leaving only the keys of my by then rather ancient Astra as security, but that first ride - wow ! There was power like I had never experienced and the bike was nimble, flickable, and made one feel more securely planted on the road than was probably a good idea ! Thus began a devotion to the Kawasaki ZZR range which endures to this day.

Eventually, sadly, that universal truth kicked in again, this time coming in the form of a pensioner who did not understand how traffic light phasing worked. More pain and suffering, and this time I insisted the guy was prosecuted, which he was, and convicted. Hopefully he didn't try to drive a car again. This one shook me up quite badly, and for a while I almost gave up biking altogether, but that made me very unhappy. I give full credit to my mate and fellow biker Andy Stone, who persuaded me to "get back on the horse", and after a few months I bought my first ever brand-new bike, a 1997 Kawasaki ZZR1100. I had looked at the Honda CBR1000RR Fireblade and the CBR1100XX Super Blackbird. I had looked at the Yamaha YZF1000 Thunderace. I had even looked at the Suzuki GSX-R1100, although remembering the Gamma I almost immediately laughed and looked away again. But in the end there was no contest, it had to be the Kawasaki.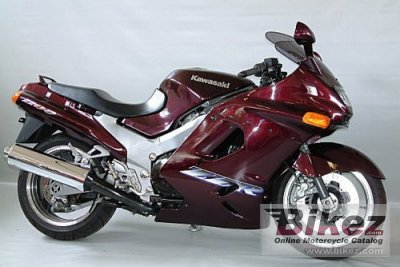 Kawasaki ZZR1100
The 1997 model Kawasaki ZZR1100 had a four-stroke 1052cc 16V DOHC, in-line four-cylinder engine with quad Keihin G133 carbs and produced 156bhp (158PS).
The ZZR1100 was a whole new level. At the time it was the fastest production bike that money could buy, doing 0-60mph in just a shade over 3 seconds, and described in various bike magazines of the day as having "the roll-on acceleration of the Starship Enterprise". Due to a gentlemen's agreement between the major manufacturers, top speed was electronically limited to 186mph. However, I once met a guy who had taken a de-limited example onto a runway at Speke in Liverpool and had topped 200mph. It was physically larger than the 600 and also just a little top-heavy, but nonetheless an amazing bike and I loved it. So much, in fact, that I kept it for the next 14 years. Other bikes came along, notably the Suzuki Hyabusa which was faster (although it looked terrible), but at no point did I ever want to replace it. Parts started to become difficult to source, indeed most other ZZR1100s on the road had by that time been fitted with aftermarket replacement exhausts, but they looked rubbish. For that reason I resisted and actually towards the end of its life patched up the splitter with Gun Gum, a trick I had learned way back with the Honda MB5. It worked and got me through at least 2 MOTs ! I finally had to part with this bike in 2010 when another careless car driver, this time a woman who was on her phone and pulled out of a side road right in front of me, totalled it. Such a shame, she had apparently "only just got her car back after the last accident". So, it was back to the same dealer from whom I had bought that bike for a new one, Kawsaki's flagship model by then being the ZZR1400.
Kawasaki ZZR1400 ABS
The 2010 model Kawasaki ZZR1400 ABS had a four-stroke 1352cc 16-valve DOHC, fuel-injected in-line four-cylinder engine producing 197bhp (200PS). Top speed was still electronically limited to 186mph, but 0-60mph was now in the region of 2.5 seconds. 30% more powerful, more compact and with a lower centre of gravity than the ZZR1100, it improved on an already winning formula and in my opinion represents the very pinnacle of large-engine sports-tourer motorcycle engineering.
The ZZR1400 was designed specifically to be faster than the Suzuki Hyabusa. Additionally, over the intervening 14 years Kawasaki had fixed the small number of minor niggles I had with the ZZR1100. The bike felt smaller and more nimble, like the ZZR600 had been, but with literally twice the power. The centre of gravity had been lowered, meaning it was no longer at all top heavy. They even fixed the little resonant vibration you used to get on the edges of the windshield at specific revs, with a modified and more rigid shape. And oh, the engine ! I was, once again, blown away.

This is a blisteringly, astonishingly, ludicrously fast bike. Whatever speed you are doing, in whatever gear, if you twist the throttle it will accelerate hard, serving up lashings of the kind of thick, creamy power that you can only get from a big engine. Sadly, as of 2020, the bike has just gone out of production due to EU emissions legislation. The replacement is the Kawasaki Ninja H2, which although technically faster and more powerful, is only 998cc and uses "trick engineering" to get the extra horsepower. This means the midrange is nowhere near as satisfying. I now intend to keep my ZZR1400 on the road for as long as possible, because there is no other bike I want.